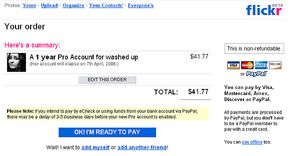 Yep. A Flickr Pro account. That's what I want. With 1 GB a month for bandwidth and unlimited storage and unlimited photosets. Ah... So why don't you go ahead and sent me some money via PayPal? My account is cassadiddy4@hotmail.com. It's $41.77, if you're feeling rich. Yeah, that'd great. ;-)

And while I'm at it, let me just plug Flickr real quick. It is the best for album-style photosharing. (I use Photobucket for things like my site header.) With a free account at Flickr, you get a nice 10 MB monthly bandwidth, three photosets, and a 100 photo circulating storage. Plus, they have a good communication system: comments, contacts, groups, favorites, and tags, which make looking up a photo of anything super-easy. A free account alone is a great photosource and even a way of meeting people. You never know when some creepy old men might stalk your photography. I know that's what I was looking for when I signed up.

But, alas. I'm beginning to out-grow my 100 photo limit, and I'd really like to add some more photosets since I'm becoming a bit obsessive about taking certain types of photographs. I'm also trying to scheme up a way to hoard insane amount of photos online while I'm abroad. I'm thinking this might be the way to go--once I figure out a safe way to charge my camera battery in Europe...