Today. Hmm. How 'bout it. It has been rough. Nothing very detrimental has happened, but my spirits have been torn down repeatedly. But you know what, I'm tired of the rollercoaster. I don't want to want anymore. I want to be content with the way things are. And I should be, but instead, I find that loose end of everything and get tripped up by it. I just want to see the good in things. Because it's there, and I know it. But I fail to have a calm vision -- that calm, steady vision that doesn't go blind simply because the scene changes for the seemingly better or worse. It just keeps seeing.
"How You Love Me" -- Bebo Norman

Hope came home, home to me today
And fear has run the other way
Words are weak, they don't know how to say
You know I still believe in you

And should my dreams fall through
I will be safe with you
So with every breath I can breathe
I'll sing about how you love me
I'll sing about how you love me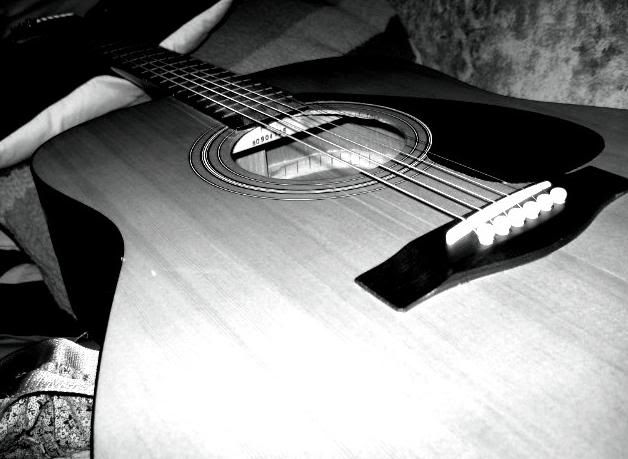 On a lighter note, I bought myself a thirty-dollar Korg guitar tuner this evening. I got it to accompany the new-to-me Yamaha acoustic guitar that Mom and Dad bought off Arenda's friend. It was sorely out of tune, and so was the Washburn. My other tuners have crashed and burned, and today, with the help a little emotional money-spending, I got everything tuned up. I ran through my routine of songs. You know, I don't know much, so I just play the ones I know in rotation. But it serves its purpose -- whatever that might be. I think it's normally a stress-reliever, as it was today. But I tell you what. Those strings might be even easier, if it's possible, to hold down than those on the other guitar, but they hurt the heck out of my fingertips. Maybe it's because I haven't played in a while, but this feels like it did the first time I laid hands on a guitar. Painful stuff. Beautifully and painfully familiar.